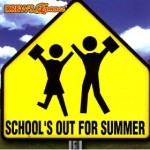 Thursday, May 24 is the last day of school for Logan Elm Schools.  It is so hard to believe that the last week of the 2011-2012 school year is here!   This has been an incredible year for me.  I remember how nervous everyone was on that first day-including me!  It didn't take long to get into the routine, though, of life as a 7th grader. And life as a teacher of 7th graders!
  You all have grown and matured in so many ways.  I have truly enjoyed having you in my classroom this year.  I will miss you.
Have a wonderful and safe summer.