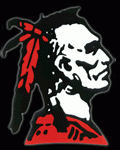 We'd like to wish the very best of luck to the Lady Braves volleyball team in their Division II State semi-final game tonight against Lake Catholic.  This is the first time in school history that our volleyball team has made a Final-4 appearance.  We are very proud of all of these girls.  Two teams members, Rebekha Lucas and Nikki Young  are former Laurelville Elementary students! 
The Logan Elm football team also continues in their tournament run this evening against Springfield Shawnee.  We wish them the best of luck, as well, and hope that their season continues!  Former Laurelville Elementary students that are on the football team:  Chris Eversole (senior); Nick Hart, Dustin Fox, and Kyle Eveland (juniors); Eli Dickson and Stephen White (sophomores); and Rod Lucas, Dominick Graham, Nick Sheumaker,  JJ Osborn, and Jesse Kerens (freshmen).
Win or lose tonight, we are so proud of all of them for their hard work and commitment to their team!