Several students have been busy working on their blogs outside of the the classroom!  Please be sure to check out these "Gold Star" blogs!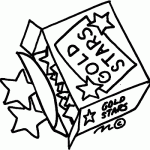 Chelsey and Kendall have written about some good books that they have been reading.  Megan has been sharing poetry on her blog and Abby and her family are preparing for their busy Christmas on the tree farm!  Want to know about the world of sports?  Then be sure to check out Drake's blog-he will keep you up to date!  Lauren has also been busy getting her blog caught up and has written some excellent posts on her blog. Brant has written a nice post about snow (although I really don't want to hear that word yet! :)) and has several science -related ideas for posts for his blog!
When you check out their blogs, be sure to leave a comment!